Real Guatemala to Costa Rica
Booking Dates
05/22/2023 through 12/15/2024
Travel Dates
05/22/2023 through 12/18/2024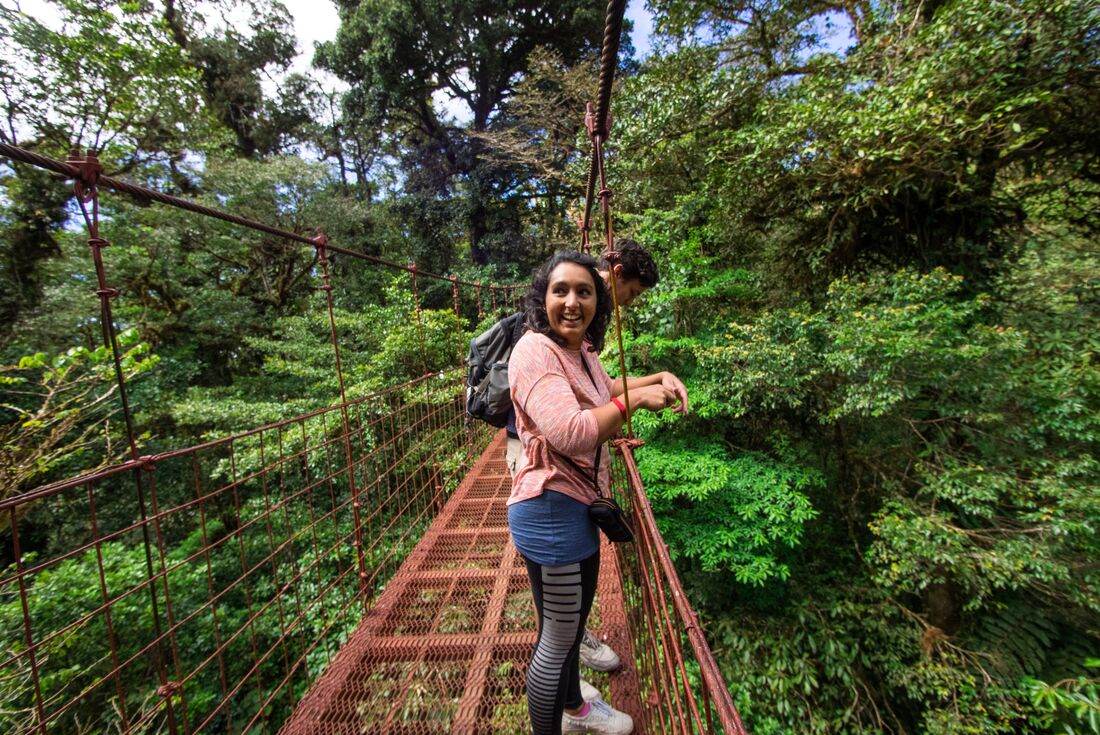 Real Guatemala to Costa Rica

From the Guatemalan highlands to the cloud forests of Costa Rica and all the adventure towns and surf spots in between, roll through four Central American countries for a taste of what this incredibly diverse region is plating up. From tropical forests alive with jungle melodies to vast freshwater lakes and active volcanoes, this pocket of Central America is pure, unrefined paradise. Whether you're gazing over a volcanic crater in Cerro Verde, spotting colourful birds perched on the colonial facades of Granada, standing in the shadow of mighty Arenal Volcano or spotting sloths among the canopy of Monteverde Cloud Forest – this trip through Guatemala, El Salvador, Nicaragua and Costa Rica is perfect for those who like their adventures 'la forma natural'.

Activities
Leader-led Informal Spanish Lesson
San Miguel – Salvadoran Pupusa cooking demonstration
Leon – Leader-led orientation walk
Granada – Breakfast at El Cafe de las Sonrisas
Los Ramos Community – Cooking Class
Monteverde – Leader-led orientation walk
La Fortuna – Leader-led orientation walk
San Jose – Leader-led orientation walk
Highlights
Oh, Central America, what a land. Get a taste of four different countries on an epic Latin adventure that takes in the sights and offers a whole heap of optional activities too.
Cerro Verde is waiting to be explored. Enjoy a full day at leisure in one of El Salvador's most beautiful national parks – get up close and personal at a volcano crater or take the plunge in a pristine lake. The choice is yours!
Island life doesn't get much better than Ometepe in Nicaragua – volcanoes, wildlife-rich rainforest, stunning beaches, ancient rock carvings, and a massive lake are all on your plate.
Central America likes to keep you on your toes – hike, cycle or zip-line through the steamy cloud forests of Monteverde in Costa Rica and commune with nature in one of the world's most incredible landscapes.
Costa Rica's famous Arenal Volcano in La Fortuna is unbe-lava-ble. Go with the flow and let off some stream with hikes, waterfalls, watersports, and hot springs in the shadow of this giant.
| Day | Description | View All |
| --- | --- | --- |
| Day 1 | Antigua | Details |
| Day 2 | Cerro Verde | Details |
| Day 3 | Cerro Verde | Details |
| Day 4 | San Miguel | Details |
| Day 5 | Leon | Details |
| Day 6 | Granada | Details |
| Day 7 | Granada | Details |
| Day 8 | Ometepe Island | Details |
| Day 9 | Ometepe Island | Details |
| Day 10 | San Juan del Sur | Details |
| Day 11 | San Juan del Sur | Details |
| Day 12 | Monteverde | Details |
| Day 13 | Monteverde | Details |
| Day 14 | La Fortuna | Details |
| Day 15 | La Fortuna | Details |
| Day 16 | San Jose | Details |
| Day 17 | San Jose | Details |